Today I was a chaperone for Roan's first kindergarten field trip.
I arrived at school and was immediately given the task of taking pairs of kids to the little tiny kindergarten toilets to pee before our walking journey about 3/4 of a mile away to a local theater to see a production of "Aladdin."
One of my favorite little friends of Roan who has an exceptionally cute voice, told me, after he peed, "There is another wurrrrd for pee. Urrruuunate."
"That's right!" I said.
Then the small class of 19 kids lined up and about 6 parents and the teacher started walking off campus down a steep cactus and tree-lined street toward a very busy Cahuenga Blvd.
The kids were delighted and elated. "I'm used to this kind of walking." One boy said. "I live in the hills and I have learned to navigate traffic and nature, like falling pine cones, very well." Then that same boy did NOT STOP TALKING for the remaining 15 minute walk. Not once.
The teacher pointed out various flowers, cacti,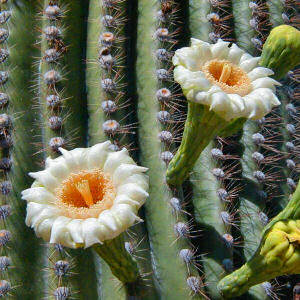 blooming trees
which the kids were all excited about.
Then we passed THIS:
One child said, "Well… I guess that's a show about BOOBS!!!"
(Pretty keen observation if you ask me. I mean… what ELSE could the show be about?)
And then Roan said, "Well… That's a pretty DYNAMIC poster…" 
Me: "What does dynamic mean, Roan?"
Roan: "I don't know."
Then we arrived at the little theater.
There were a few other classes there. The play was Aladdin. Only it had been SEVERELY rewritten. In this rendition Aladdin lived with his stereotypically Jewish mother who was old enough to be his grandmother. Aladdin was played by a 40 something white actor. There seemed to be something wrong with his hands, which hung motionless from his wrists. In order to make them move he had to flail his arms and then his two hands would bounce around like jellyfish.
The Genie or "Gene" as he was called in this production was played by a man with less charisma than a carpet salesman. (or at least the carpet salesmen you see on TV, I am sure there are many carpet salesmen with amazing personalities.)  He was almost 70 years old and was wearing a full Genie costume but on his feet had large white Nike tennishoes which stole focus even when he was doing his "Sleight of hand" magic tricks. He looked like this:
None of the actors could sing which was unfortunate as it was a musical.
There was a princess at the very end. She was played by a matronly and thick woman. Which, again, great out of the box casting! But I had sort of expected Disney's version. I mean, we were walking distance from the Vivid corporate offices, you'd think there'd be a lot of "actresses" who fit the part.
Snarky remarks aside, it was a fun production about finding the magic inside of you that, while it made no sense and was terribly executed, the kids adored.
On our walk back Roan and his buddy held hands. Which was pretty cute. Especially since they call each other buddy. Or "Best Buddy."
Their conversation was as follows.
"Hey Buddy! I just stepped on a bug."
"Was it a STINK BUG, Buddy?!"
"HAHAH!"
"That was a good play, Buddy, but it wasn't as good as Les Miserables." (Roan says.)
"Yeah You LOVE Limizzerarbles"
"Hey, Buddy, you know in the play when  he met the princess? That was… SEsssssy."
(Me… in my head… WHAT!?!?!?! Sexy!?!?!?!?!?!?!?! Um, Roan doesn't know what that word means. Sessy or Sexy. Yikes. When do kids learn what that means? What DOES It mean?)
Then we passed by Jennifer Love Hewitt again. But the kids were too engrossed in talking about the play to notice her ample tetas.
And such was my first experience as a field trip chaperone. Oh! And, Make sure to catch this new show about Jennifer LOVE Hewitt's Boobs!
Wednesday, March 14th, 2012