My husband and I are very adventurous eaters. My husband is a chef. My son, however, will not eat ANYTHING green. As in vegetable. I have to hide it, puree it, sneak it into his food. At the moment he's enjoying a smoothie made with coconut milk, strawberries, blueberries, blackberries, raspberries and… unbeknownst to him Collard Greens, Spinach, Chia seeds and Kale.
Thank GOD he did not see the tiny flecks of green. I chose an opaque glass for this reason. If he HAD seen the green he may have thrown up. He most certainly would have gagged, turned red, had teary eyes and most likely barfed numerous times.
This has happened before. One night we "made" him (strongly encouraged with a bribe even) him eat yellow squash and green zucchini. He did his best, then proceeded to vomit all over the leather couch.
You can't FORCE a kid to eat vegetables if they don't want to. Especially a kid with such a strong gag reflex. My friend Kory who I've known since kindergarten tells a story of eating dinner at my house once with my big family of 7 and she CLAIMS my dad and stepmom MADE her eat lima beans. (THEY claim they were being sarcastic, "Eat everything on your plate!" But she DID and says she threw up lima beans all night and to this day cannot even look at one.
I know what some of you may be thinking (what the mean moms are thinking) "You sit that child down and MAKE him eat his vegetables! He's playing you! He's making himself throw up!" But you really don't realize what's really going on here. He is NOT making himself throw up. It's a visceral unavoidable reaction.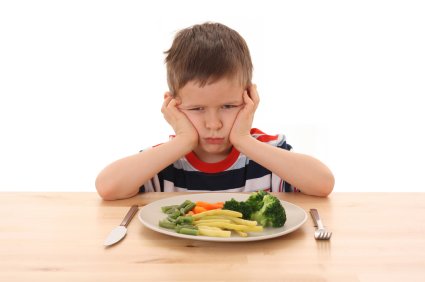 Take Garlic for example. The other day I was cooking with garlic. I love garlic and use it until my pores reek of it. He glanced at the chopped garlic and his eyes started to water. He then unvoluntarily gagged and had to leave the room. I wasn't even asking him to eat it.
All the sudden it HIT ME!!! When I was pregnant with Roan Steve was making a beautiful roast of some sort and had a small bowl of chopped garlic on the counter. I looked at the garlic and proceeded to throw up TEN times. And when I was pregnant with Roan I couldn't even LOOK at a vegetable. Especially anything green. I had the worst morning (all day) sickness of anyone I know. Actually, that's not true. Two of my dear best friends had it worse. They were hospitalized! Ahhh… I love you my sisters. We share a bond of queasy connection. But mine was bad. There was a time I couldn't even look at WATER. My doctor told me "Sign of a healthy baby, you don't need much water, sip it with a spoon."
I sobbed, "Don't need much WATER??? My baby is going to die. I am going to die!!" (I'm super dramatic.)
But doc was right. Up until the last week my "fluids" were ample. In fact I lost 30 pounds directly after giving birth, that's how hydrated my baby's womb-home was. Bizarre. Where did it all come from? A magical intra-uterine waterfall with unicorns and pegusses? Pegusai? Maybe.
Anyway, I realized that everything Roan has a strong aversion to are things I had a strong aversion to when I was pregnant. And knowing how HORRIBLE it felt to come face to face with a head of lettuce or a green bean, I could never put my son through the same thing. I think what it is is that when I became pregnant with Roan, HIS tastes took over. Little embryo Roan was telling me what I could and couldn't eat… or so much as look at.
So, when I was pregnant I ate:
Anything processed. Like Swanson TV dinners. (Zero nutritional value.)
Prenatal Vitamins
Subway Sandwiches with only turkey and cheese and little mayo. (Had these every day)
A bean and cheese burrito
Bananas
Pretzels
Well… these are all Roan's favorite things now.
And I know what you (mean, judgemental) people are thinking. :) "What a sickly little boy you must have!"
No. He eats his veggie gummy vitamins from Whole Foods. And guess what? He's frickin' healthier than most kids I know! I can't remember, I really can't even remember the last time he even had a cold. (He'll be sick next week because I'm being so arrogant, right?) He's 99% height, perfect weight. Ok…I'll stop the bragging. It's just sort of amazing to me that after eating crap I gave birth to such a sound specimen weighing almost 11 pounds. How does that work? Are Peguses involved in THAT too?
As much as he detests vegetables, however, he loves sugar. Surprising? No. It's like heroin. And he pronounces sugar, "Seeger" Like Bob Seger. And we laugh at how cute it is. Uh oh… maybe the lack of vegetables is giving him a speech impetement?!!
Most of the day is spent with him hitting me, his sometime dealer, up for a hit. I do my best to balance it all out.
And he rarely rarely goes to Mc Donalds so at least he has THAT going for him. Mc Donalds is not food. It's yummy as hell, but if you put a burger patty in a dark cupboard for two years and take it out, it's exactly the same as it was. It's not food. It's something you put in your mouth but that's where the similarities end.
Oh, and Roan loves "lunchables" more than anything. Processed horribleness.
Witnessing a 5 year old jonesing for a lunchable is a painful sight. Their hands shake slightly and their mouths water. When they inevitably get their lunchable they delightedly pour the red sugar "drink powder" into the water bottle and half of the powder falls onto the floor, some of it sprinkling on the "turkey." Yes, Roan most definitely IS drinking the cool aid.
I went through a time when I made my own lunchables for him, cutting circle shapes into free range organic turkey slices and cheese. Wasn't quite the same. But I did my best. I do try. I mean, I make home made turkey meatballs filled with pureed  broccoli. And I had a thought the other night about injecting each of the little ravioli he loves (the kind with Grover on the box)
with cauliflower. EACH ravioli. With a little plastic injector thingy.
It IS organic and pretty healthy. I try really hard! I just know what I CAN and can't make him do!
Where are you on the "healthy feeding of your child" spectrum? Do you go to fast food every day? (I try not to judge, but don't go EVERY day. Please.) Or are you at the other end? I have a friend who'se daughter has, in her entire 6 years of life, ONE PIECE OF CANDY. Seriously.
They don't celebrate Halloween. Well, they don't trick-or-treat at least. And get this… this little girl has never had ANYTHING that was ever frozen. Meat has to be organic and free range (I applaud that, expensive as it is!) and has to be bought SAME DAY.
Never frozen.
No juice and for dessert it's MAYBE a slice of fresh fruit. Needless to say we don't have dinner parties with them. The energy it must take! It's like Gwyneth Paltrow! Who's daughter is a "Self started Vegan who eats raw Broccoli like candy." (She seriously said that. I wonder if she has any mom girl friends? Gwyneth. Not her daughter.)
Strange thing is, this little girl is sick all the time! And small for her age. Sort of pale as well.
(I will say, on the meat issue… since these are living beings who are treated for the most part, terribly, before we ingest them, I'm doing my best best to only eat free range. And that's not easy or cheap.)
In LA there's the macrobiotics, the vegans, the RAW foodists! Yes, there is a Raw family at Roan's school. Intense.There's people who only drink NUT milks and many many gluten free people.
Obviously there's a balance. Middle Road. That's where I'm trying to be. And of course I worry.
I kid you not… "Mama, how bout a Trader Joe's Oreo Cookie for dessert?" (He just ate some steamed won tons with a trace amount of green cilantro in them) "Ok, you can have a couple Oreos." I say. "Get it for me!" He says, like a druggie who's used to being waited on. "No, you go get it yourself. If you wanted a carrot I'd get it for you though." And he's up like a flash for his fix.
PS
Joe Joe's are healthier than Oreos by leaps and bounds because of the lack of hydrogenated oils and a host of other reasons I don't really even know. But that's what I'm telling myself…
Friday, January 13th, 2012