We arrived at LAX from New Orleans tonight and as I waited for our luggage some pretty great people watching happened. I narrowed in on one handsome guy who perplexed me because of what he was wearing. He looked "normal" enough. Like an Ivy League college student with dark hair and a naturally athletic build.
Really handsome, nice body, but understated, like he wasn't posing or posturing at all. And completely un-self aware. (A little too unaware, sort of wandering.)
(Unlike this model who is very self aware and wearing fur but he looked like this guy)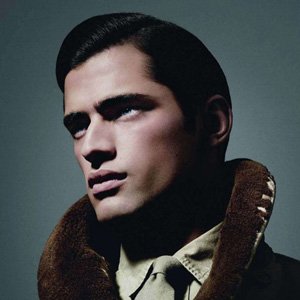 He was wearing these brown loafers with black socks which seemed off and the loafers were about one size too big for him. Not so big that he looked like he was wearing his father's shoes or anything, but big enough that they slightly slipped off the back of his heel every time he walked.
He had the sort of look that you expected him to be dressed in J.Crew or Paul Smith.
But instead he was wearing fruit of the loom type gray sweatpants. Fresh out of the package. And a white undershirt. I couldn't get over the sweatpants. They were just so off and bad. It wasn't like he was one of those hot guys who was TRYING to dress down, it was like something had happened and he had to go buy some ill fitting stiff sweatpants at a drugstore. And his shoes didn't fit. Had he borrowed them?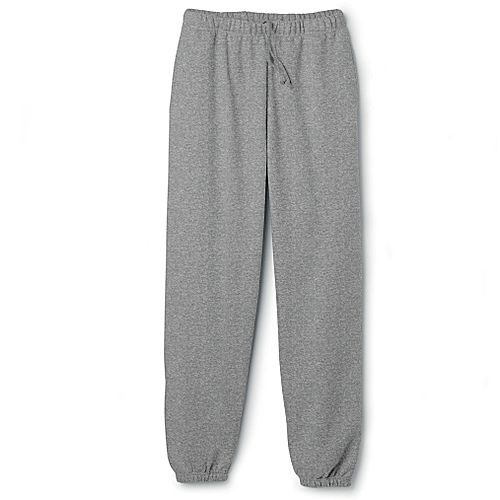 I started wondering what his story was. First I thought maybe he was homeless but then I realized he had just flown on a plane so… couldn't be that. Then my mind went to that scene in "The Pursuit of Happyness" where Will Smith and his son spend the night in the Subway bathroom and I got really depressed thinking about how people have to do things like that.
Then I imagined maybe he was an asshole and had wronged some girl and she took his clothes while he was sleeping naked in bed and he had to catch a flight and all he could find was clothes at a drug store and someone else's one size too big shoes…
At this point the attractive guy in sweats was waiting for his luggage and I noticed his backpack. A small leather backpack perched on his back. Like a little school boy.
Maybe he was "Slow" and his mother had dressed him, her handsome, "slow adult son" for a ride on an airplane. The sweats reminded me of the sweats my grandfather wore when he was really really old, when someone dressed him in a nursing home. And those sweats were definitely from a drugstore. And my grandpa had a lot of money. But because he was old someone dressed him. In stiff gray sweats. Just like this young, good looking guy was wearing.
Finally we got our luggage and went outside to wait for our ride. I forgot about the guy in the sweats and thought to myself that whenever I am at LAX I always see a celebrity and wondered who I'd see today. I'd often seen Kim Kardashian when she was dating Reggie Bush from the Saints because we'd be on the same New Orleans flight. Last time we sat behind Trent Reznor from Nine Inch Nails, who complimented Roan on the costume he was wearing. (Roan was dressed as an airline pilot. White button down shirt, blue tie, blue coat and pilot hat. But with a cape.)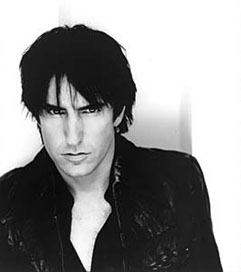 This time I saw Joey Lawrence's mom. I'd seen her once before with Joey and she left quite an impression on me with her tiny stature and her clear desire to look more like her son's girlfriend than his mother. I can't seem to find a picture of her to show you so I'll show you Joey instead. I don't understand what look he is going for and —wow has he had a lot of work done.
Soon he's going to look like Liberace…
Meanwhile Roan is taking my sweater-dress and lifting it up and inserting his entire head and torso under it, I guess to keep warm.
Then my train of thought was broken as two hot girls drove a really nice new black Volvo up to the side of the street, looking for someone they were picking up.
They were HOT. The blonde one gets out of the car and is wearing a long, skin tight gray t shirt dress and platform boots. She's clutching a leather jacket in front of her stomach but there's no reason to- her stomach is as flat as a board. (I often cover my stomach because it's fat.)
(I tried googling a stock image of a "cute blonde with perfect body" for you here to give you an idea and let's just say they were all XXXXXX.)
Anyway she yells out, "Hey, B. J!" And I think, "that's appropriate, she's probably in porn." And I notice how perfect her butt is. I mean… you see women like this in magazines but in person it's quite impressive. Perfect bubble butt. Not overly done face, quite natural. No makeup. Young woman. Maybe 22 years old. But when she yells, "Hey, B.J!" It's really quiet and she's self conscious of everyone looking at her and I think to myself, "you are going to have to yell a little louder if you want anyone to hear you, chick."
So she does yell louder and up walks BJ who is… the guy in the gray sweatpants. So his name is BJ.  And he walks toward the car in that toddler-good looking but slow- way, as if she was his mother calling him in for lunch.
He gets in the back of the Volvo and they drive off.
Friday, December 30th, 2011