In the face of an overabundance of delacacies to stuff your face with … it's easy to overindulge in New Orleans. My mother in law's a damn good cook. Here she is on our first night in town presenting a banana dulce de leche pie. I had two slices.
This year instead of folding myself into a comatose ball and rocking myself to sleep after eating, I tried something different. Eating followed by some sort of physical activity.
We arrived to a family tradition, Fondue night. Crabmeat drenched in cheese. Crisp edged fluffy soft white squares of bread to dip it in. There was also chicken to cook in a variety of oils. And a spinach and avocado salad to balance things out.
With a belly full of congealing cheese and bread there's only one way to work off the calories. Dance party! Tradition dictates it must be done shirtless. It was also 75 degrees. Steve would kill me if he knew I was posting these.
Now as you can see, Steve doesn't really have to worry about "eating right" in New Orleans. He's a yoga fanatic. He's also incredibly humble. (he's the opposite of those guys who are Tools but strut around singing their own praises.) Therefore I have to brag about him because he never will and I guess that makes ME the Tool. But I wish I had the stick-to-it-ivness in the exercise department that he has.
Next morning was crepes made by my mother in law and coffee with a touch of chicory.
Then I followed Steve to a yoga class at his old New Orleans buddy Geoffrey Roniger's place. We did many poses focusing on "squeezing out the stress, squeezing out the overindulgence." This is Geoffrey. Best Yoga instructor I've ever had.
After we were sufficiently squeezed and stretched we headed over to a New Orleans landmark. Cameillia Grill.
And waited in line. Then joyfully ingested a thin waffle teeming with crisp pecans, an orange freeze and a bowl of light savory gumbo filled with okra.
On our way out we ran into a friend who gifted Steve with a large holiday themed King Cake. King Cake is a New Orleans delicacy sort of like a round coffee cake but on crack. You can't stop eating them. This holiday one had a hint of peppermint.
I realized that I was going to turn into one of the all too real characters from Wall-E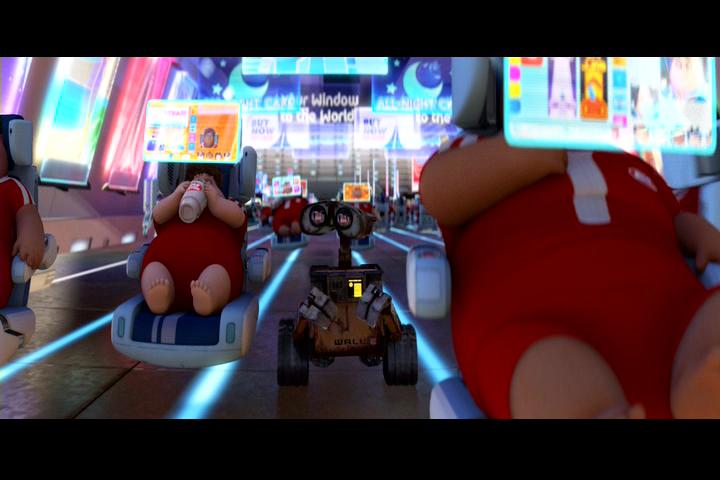 (seriously, parts of our country are already like this… aren't they?) So I decided that after dinner, which was a lusty plate of my mother in law's red beans and rice, I'd get busy burning some calories.
That's a little salad on the side and a corn bread muffin with a pat of butter.  Must be eaten with intermittent swigs of Abita Ale, a robust cabernet or… champagne.
For dessert the King Cake looked pretty good. I ate about half of it. With a side of creamy home made vanilla bean ice cream.
It was only Monday. We had eight more days of our time in New Orleans. I knew I had to get busy. And so I hit the elliptical machine.
One hour of solid ellipticalcizing I felt better. Music of choice is anything by Rhianna or any Brazilian samba music. Preferably while watching Brazilian women dance the samba. In thongs. I'll be 40 in a couple years and I intend to have the body of a samba dancer at Carnivale. I may even start dressing like one.
Lunch beckoned.
Smoked pulled pork sandwich topped with creamed cole slaw, hush puppies, pork chop, collard greens cooked in smoked bacon… and Dessert. Pineapple bread pudding topped with home made bourbon infused whipped cream.
All eaten on an outside patio near a smoker emitting the most delicious scents.
With the company of my husband.
The days that followed were a dream of food followed by physical activity. Trying to find some sort of balance between paralyzed "American" fatty and perky-assed samba dancing Brazilian.
Sometimes what we ate was healthy. Romanesqu in a light anchovy butter sauce, sweet potatoes & peppers, local greens with local "watermelon beets" and pizza.
And with three chefs in the house there was always something brewing in the kitchen
Fried oyster po-boy with a side of sweet potato and creole mustard seed salad.
Pimento Mac and Cheese
Sweet Carmelinas made by yours truly.
Then Uncle Pat started the Gumbo with the richest darkest roux filled with andouille sausage from Cochon in the French Quarter.
Time for a walk along the river. With some "Balance work" on some logs. (Ha Ha) that's got to burn some calories, right?
Followed by more "Balance Work." I had to very carefully get onto this rope swing over the rushing Mississippi below. Roan was so excited thinking I'd definitely fall, making for a great America's Funniest Home Video. I didn't fall. And I burned maybe one bean's worth of calories.
Then we ate shrimp.
Fresh crabmeat salad.
Enjoyed by and with family.
More dancing
And more hours on the elliptical samba-ing & sweating out the salts!
Fresh shucked oysters
And a trip with my sister's family to Cafe du Monde for Beignets and cafe au lait.
Finger sandwiches and tiny muffalettas… (The muffaletta, goofy as its name sounds, is a world-class sandwich which hails from New Orleans, where it is often sold as an entire loaf of bread suitable for four people of healthy appetites to enjoy. It's pretty much impossible to find real muffaletta bread outside of New Orleans.)
Another sweat session, dancing on the smooth no impact elliptical.
Some squats, some stretching, some ab work.
And I'm ready to go again.
Oyster dressing… plump fresh oysters just shucked in a heavenly merger with butter, bread, onions and peppers.
And a trip to a Farmers Market by the river yields the hugest cauliflower I've ever seen. Fresh Organic Louisiana Satsumas & Strawberries
And no sooner has Steve whipped the cauliflower into a soup smooth as velvet.
Christmas Eve means Lobster, green beans in butter and vermouth. Twice baked potatoes.
Christmas Dinner - Turkey, Broccoli with spicy cheese, sweet potatoes with apple cinnamon and marshmallows, oyster dressing, gravy, ginger cranberry sauce, mac and cheese…
And a trip to Audubon park for the parcourse
OOh look, Achilles Stretch..
Followed by Hazelnut torte.
Dad gets in on the action
Some Lady Push Ups
A run in with a large fat swan proved mildly calorie burning (fear)
An afternoon cheese plate washed down with an oyster loaf at cassimentos. ( A LOAF is different than a po boy somehow. All I know is it tastes good.)
Creole tomatoes, stuffed gulf shrimp…
And a walk in the park in the rain.
With three days left of our trip, I'm not sure what my weight or cholesterol numbers are. I Do know that food made and eaten with love can't be bad.
Monday, December 26th, 2011